Barefootevenement 2015
Nee, weer een blog over voeten! Terwijl het toch de intentie is te schrijven over álles in het leven over wat de mens blij, gezond en creatief houdt? Nou, dat is 'm nu juist. Ik kom niet van die voeten af, je kan er gewoon niet omheen.
'Maar je doet toch al yoga, doe je niet te veel?' wordt er dan gevraagd, door m'n moeder bijvoorbeeld, die tegenwoordig altijd in is voor een kritische noot.
Nee, het is niet en nooit te veel, want júist door yoga kan je niet om die voeten heen. Kort door de bocht: Volgens de yoga filosofie is het lichaam een bezield bewegingsapparaat, een prachtig en ingenieus kunstwerk, dat middels ademhaling, beweging en meditatieve mentale processen steeds beter mindful in contact leert te zijn met zichzelf en de wereld eromheen.
Niet iets voor leuk een maandje; maar een levenswerk in feite, en dat betekent, dat je beter gaat opletten. Een disbalans of kleine blessure ergens in het lichaam compenseert zich, en uit zich vaak weer in klachten op andere plekken. En ja, je kan wel aan alles werken, je in allerlei bochten wringen, veel sporten buiten, en veel naar die yogales gaan, lekker fanatiek gezond doen, maar dan die voeten vergeten? Pijn elders in het lichaam komt heel vaak uit de voeten of de benen vandaan.

Ik ben nu inmiddels grote fan van de barefoot movement, een stroming die binnen de sport- en yogakringen steeds grotere navolging krijgt. Onze voeten willen ook voelen. Laat die meer dan 600 botjes, spieren en pezen allemaal meedoen! Die hebben heel eigen specifieke workouts nodig, voeten zijn complexe lichaampjes op zich. Als we schoenen dragen gebruiken we niet meer dan 20% (red. sorry, -nog- niet wetenschappelijk, gokje) van de bewegingsmogelijkheden van de voeten, en die hebben invloed op de rest van ons hele lichaam, zowel ons lichamelijk als geestelijk welzijn.
En ik zeg, als roeptoeter voor alles wat goed is: Bevrijd de voeten uit die stijve gevangenis-schoenen met te dikke zolen! Red die pijnlijke stijve voeten, loop zoveel mogelijk blootsvoets; leer opnieuw lopen en schaf een paar barefoot schoenen aan.
Hier een mini impressie van het zeer inspirerende barefoot evenement gisteren in Hilversum sportpark. Er werden de hele dag workshops gegeven, voor en door sporters, wandelaars, bergbeklimmers, vechtsporters, voetendeskundigen, en ook een paar van ons uit de yogakringen en bio-mechanica fans van Katy Bowman waren erbij. Heel inspirerend en leerzaam allemaal!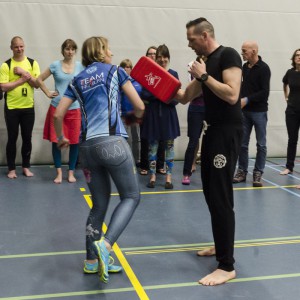 foto Ron Heijman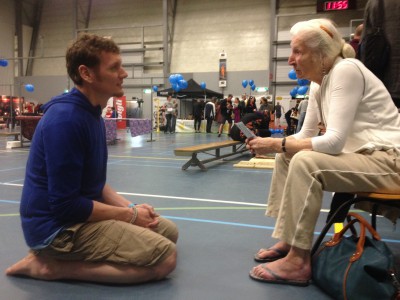 Mida Schutte de voetengoeroe met fan
Dit is niet alleen voor natuurfreaks, wandelaars of bergbeklimmers. We lopen allemaal. Ook wij schrijvers lopen (sommigen van ons juist vaak!). En ik merk, wees extra lief voor je voeten, je krijgt meer energie, meer ruimte in 'lichaam en geest' en dus meer creativiteit. Hou die barefoot movement in de gaten.
Kijk op de FB pagina voor meer barefootnieuws en evenementen. En kom zelf eens kijken en voelen. Ik ben er ook, opnieuw leren lopen.
Free the feet, free the mind!
Barefootevenement 2015: www.facebook.com/events/652084338234486/